Queensland stars shine bright on the national stage!

Queensland's training stars shone bright at the 2020 Australian Training Awards on Friday night (20 November 2020), taking out five highly prized national awards.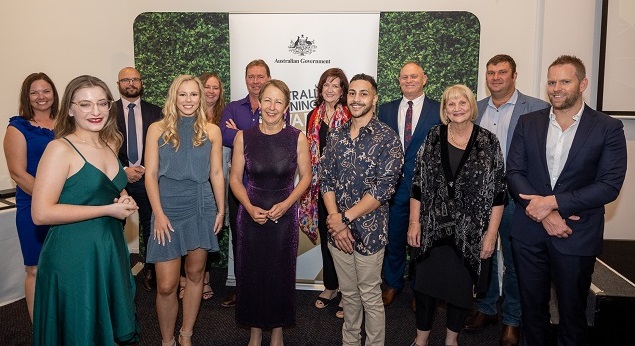 Caption: Ngaire Trigg, Breanna Cassidy, Aaron Farrell, Jennifer Myers, Leah Furness, Josh Furness, Minister Di Farmer, Debbie Blow, Jabin Giblett, Garry Hargreaves, Mary Campbell, Braden Hellmuth and Laclan McIntyre
Among the accolades, Lifetime and National Achievement Awards went to TAFE Queensland CEO Mary Campbell and Director of the Community Services, Health and Nursing faculty at TAFE Queensland Gold Coast Debbie Blow for their outstanding commitment to vocational education and training in Australia.

National winners included:

Individual award categories
Australian Apprentice (Trainee) of the Year Award national winner Breanna Cassidy 

Australian Apprentice of the Year Award national runner-up Braden Hellmuth 
Business categories
Congratulations to the 14 winners and finalists who represented Queensland at the nation's peak awards for vocational education and training.

The virtual awards were broadcast across the country on Friday evening, with Queensland hosting a screening event in Brisbane attended by finalists and judges.

For more on the Queensland team, visit the Queensland Training Awards website.
.
Nominations open in the New Year

Nominations for the 2021 Queensland Training Awards will open in the New Year.

Across 14 categories, the annual awards recognise individuals, businesses and projects that exemplify excellence in vocational education and training.

We are especially proud to also be celebrating the awards' Diamond jubilee next year. In marking 60 years, we're excited to showcase the success of apprentices, trainees, vocational students, employers, teachers, trainers and training providers who are all playing an important role in shaping Queensland's skilled workforce, now and into the future.

Information on the nomination process, including examples of successful nominations, eligibility criteria and conditions of entry, will published on the Queensland Training Awards website.


Want to start early?

Great idea! Don't wait until nominations open — get ahead and contact your regional coordinator to express your interest.

We will keep you informed of important dates, give you tips on preparing your nomination and more.

 
.