TWO WEEKS TO GO: There's still time to nominate top achievers in training!
You have until midnight on Tuesday 30 June to nominate for the 2020 Queensland Training Awards.

The awards celebrate Queensland's skill-building greatness and, by getting involved this year, you will be helping spread positivity as we unite and recover from COVID-19.

When announcing the extension to 30 June, Minister for Training and Skills Development Shannon Fentiman said now more than ever we need to recognise and celebrate our top achievers in training.
"These are our apprentices, trainers, VET students, employers and our training organisations," Ms Fentiman said.
"In particular, our Queenslanders who are training and teaching in healthcare and individual support, because we know we need more frontline workers to do incredible work caring for our community.
"There's no better time to shine a spotlight on our top achievers in vocational education and training as it is key to launching careers, growing businesses and in making sure we have the highly skilled workforce we need for the jobs now and into the future.
"This is particularly relevant now as we prepare for a changed economy once we emerge from this pandemic.
"If you know an inspirational apprentice, trainee, student, employer, teacher or trainer, community initiative or training provider, please nominate them as a way to reward their commitment and encourage them to keep working towards their goals in these tough times," Ms Fentiman said.
...
.
We have a bunch of handy support resources to help you get started, unstuck and officially nominated!

Checkout these top tips:
View the

examples of successful nominations 

from some of our past winners and finalists to see what a successful nomination looks like.

View

resources developed to help prepare your nomination

, including a nomination checklist, writing tips and information on the nomination process.

Draft your nomination outside of the nomination portal — this will give you a chance to review it, do a grammar and spell check, check that each section is under the specified word limit, and easily organise a friend or colleague to review it if you want.

Contact your 

regional coordinator

for advice and assistance in completing your nomination; they are highly experienced and happy to help answer any questions you may have.
Act Now
The Queensland Training Awards are free to enter.

To make a start and learn more, such as nomination eligibility and criteria, visit qta.qld.gov.au.

Remember, nominations close at midnight on Tuesday 30 June 2020, so don't delay and nominate today!
..

.
The 2020 Queensland Training Awards will be moving entirely online for the first time in the event's 59-year history, announced Minister for Training and Skills Development Shannon Fentiman.
"The COVID-19 pandemic has meant we are moving our awards online – this won't to stop us from acknowledging and celebrating the great work being done by our training achievers across the state," Ms Fentiman said.
"The winners of the seven regional awards nights planned for July and the State Gala Dinner scheduled for September will be announced online and promoted through social media.
"The awards judging will also be conducted online and via skype and telephone."
 
For more information visit the QTA website or contact your Regional Coordinator.
..
Apply now for the Australian Training Awards
...
Lifetime Achievement Award

National Achievement Award

​​​​Excellence in Language, Literacy and Numeracy Practice Award

Australian Apprenticeships – Employer Award

International Training Provider of the Year Award

School Pathways to VET Award. 
Apply now for your chance to gain Australia-wide recognition for your outstanding practices in vocational education and training. Direct-entry nominations were extended to 30 June 2020
The Australian Training Awards will be held in Melbourne on Friday 20 November.
*In Queensland, the Small Employer of the Year category is initially contested through the state awards program – nominations for this category in Queensland should be submitted through the Queensland Training Awards process.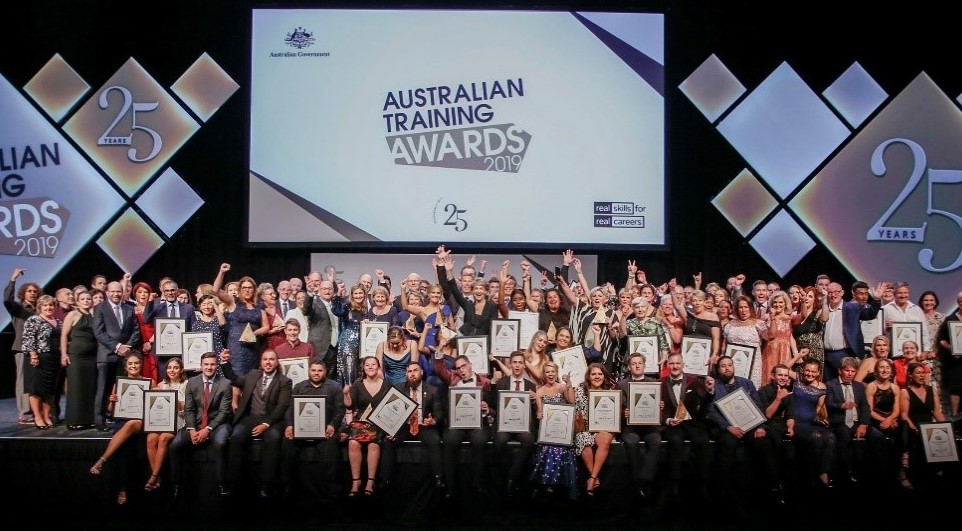 Key dates for 2020

30 June – Nominations close
July-August – Judging
September – Regional and State finalists and winners announced
October – National finalists announced
November – National winners announced at Australian Training Awards